Product Description
0.6/1kV
PVC Insulated Power Cable
Product Introduction
1.Product standards
The product is manufactured in compliance with GB/T12706-2008 or IEC.BS.DIN and ICEA upon request.
2. Application
The product is suitable for use in power distribution lines or fixed installatons with rated power-frequency voltage up to and including 0.6/1kV
3.Operating characteristics
3.1.Rated power-frequency voltage U0/U(Um):0.6/1(1.2)kV
3.2. Max. long-run working temperature of conductor:70℃.
3.3. Max.short-circuit ( 5s maximum duration)temperature of the conductor shall be:
cross-section of conductor≤300mm2--160℃;cross-section of conductor>300mm2--140℃;
3.4.The ambient temperature under installation should be no less than 0℃.
3.5.The bending radius should be no less than 20 times of outside diameter.
Cable Types
Production Range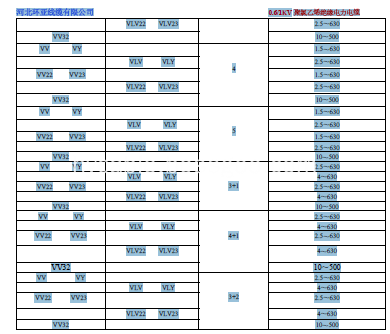 Cable Operating Conditions
1.Aerial laying
1.1 When the single-core cables are laid in parallel, the distance between the cable center is 2 times of the cable diameter for cross-section area of conductor≤185mm2and 90mm for cross-sectional area of con-ductor≥240mm2
1.2 Ambient temperature : 40℃
1.3 Max. long-run working temperature of conductor: 70℃
2.Direct-buried laying
2.1 The single-core cables are installed separately,the distance beween the cable centers is 2 times of the diameter
2.2 Soil temperature: 25℃
2.3 Max. long-run working temperature of the conductor: 70℃
Soil thermal resistivity: 1.0℃.m/w
2.4 Burial depth: 0.7m
Cable installation and application
1.Cable selection
1.1 Cable rated voltage U0/U (Um) stands for: U0 is rated A.C. voltage designed between candactor to earth or metallic sereen. U is rated A.C. voltage desighed between phase to phase, Um is max system voltage that equipment can withstand
1.2 Cable types must be properly selected and designed in light of different installing places and loads. Not withstanding much mechnical force, non-armoured cables are often used in aerial line, tuunel, cable trench and indoors. Armoured type, aside from mentioned places, can be buried underground and bear mechanical forces. No single-core cable is allowed to be laid in magnctiable duct. Special cables should be chosen where goods are easily combusted and exploded and occasions with low or high temperature and chemical corrosion.
2.Storage and transportation
2.1 While storage, avoid the package long-term exposure and keep both ends well sealed. It is not permissible to keep cable in moisture places for long time or the cable drum flat. During transportation the drum must be properly fixed and hoisted one at a time. Dropping drums from high position is strictly forbidden.
3.Laying and installation
3.1 Special tools like paying-off rack and rollers shall be used during installation. Keep clear of heating source in case of mechanical injury.
3.2 Inner radius of duct shall be not less than 1.5 times of cable diameter during installation in duct. When huclti-cables being laid in duct forbid to twist and pressure cables. The space inside duct shall be sufficient. The total area of cable requested shall be less than 40% of total duct space
3.3 During installation ambient temperature shall be above 0℃ and the bending radius is no less than 20 times of cable diameter
3.4 The Max permissible pulling force is P=0A(N) during installation with conductor pulling head. A: cross-section of conductor O:50N/mm2(CU) and 30N/mm2(AI).
4.Test
Insulation resistance test without load shall be conducted after installation. The H.V. test shall last for 1 min if necessary.
Contact us if you need more details on Electrical
Power Cable
. We are ready to answer your questions on packaging, logistics, certification or any other aspects about Price
High Voltage Power Cable
、Kinds of
XLPE Power Cable
. If these products fail to match your need, please contact us and we would like to provide relevant information.
Product Categories : Low Voltage Power Cable > General Power Cable